About Us
GEN Manufacturing Limited is a developer, producer and marketer of agricultural and industrial steel castings. The company specializes in high chromium carbon steels which are extremely durable and abrasion resistant. GEN has developed and applied these steels specifically in the agricultural sector to greatly reduce the rate of wear on tillage tools as they go through the ground. Standard cultivation tools such as chisel spikes, cultivator shovels and seed drill shoes wear out very quickly under normal or dry soil conditions. By introducing the abrasion resistant steel products, GEN Manufacturing has solved a longstanding problem for the farming community in general.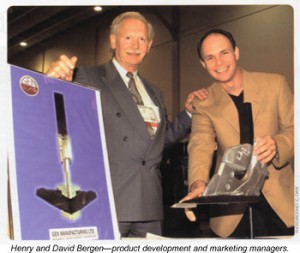 To solve the rapid wear problem, Henry J. Bergen CM, the Research and Development Manager of GEN Manufacturing applied his past experience in equipment development which was gained over sixteen years at the Agriculture Research Centre in Lethbridge, Alberta and many years in private business. The manager and his staff took upon the task of developing and testing extremely hard steel alloys which could be applied to tillage tools. The result of this research program has seen the successful testing and production of many weld-on and pin-on high chromium carbon steel wear points with carbide inserts which increase the durability of ordinary tillage tools by many times. By increasing tool wearability, productivity in fieldwork is significantly enhanced through a decrease in down time for repairs and a decrease in tool replacement costs. Many years of on-farm testing have gone into the development of each product which has produced excellent results.
In conjunction with the wear point product line, GEN has also developed a full line of precision air drill ground openers that provide precise placement of seed and fertilizer for agricultural seeders. These openers also have carbide inserts installed for long life. By developing precision placement tools for farmers, input costs are reduced and yields have increased.
These steel products are unique to the agricultural market and have been received well by farmers who had the opportunity to put them to use in their fields. As a result of this success, GEN Manufacturing has received several inquiries from large farm equipment manufacturers and distributors to develop and test wear points for seeding and tillage tools they market. GEN also offers a custom carbide application service for clients that require carbide on their existing openers.
As part of the GEN team, David H. Bergen has taken on a significant management role. With a degree in Business Management and many years of experience in the business, he is well suited for the role. Serving for many years as a Notary Public for the Province of Alberta, he also provides this service to the community as the need arises.
Corporate & Personal Achievements
October, 2009
Henry Bergen received the Alberta Order of Excellence Award in Edmonton, recognizing his innovative work in the agricultural field.
May 13, 2007
Henry Bergen received an Honorary Doctorate degree from the University of Lethbridge, Alberta, recognizing his work.
October 5, 2006
Honoured with an Order of Canada in Ottawa for his lifetime contribution to agricultural development and service.
August, 2005
Received the Alberta Centennial Medal Award in recognition for outstanding service to the people of Alberta.
November 30, 2001
Inducted as a member to the American Society of Agricultural Engineers and the Canadian Society of Agricultural Engineers.
October 15, 2001
GEN Manufacturing and Henry Bergen jointly received the silver prize in the Industrial category of the 2001 Design Engineering Awards. This award was presented at a national competition in Toronto by the Design Engineering magazine. This award honors excellence in Canadian design and recognizes innovation in engineering and industrial design.
September 27, 2001
GEN Manufacturing received the Industry Achievement Award from the Canadian Society of Agricultural Engineering and the American Society of Agricultural Engineering. This distinguished award is given to a firm to recognize the substantial contribution made to Agricultural Engineering and the field of Agriculture.
May 1, 1999
Henry Bergen was presented with the Alberta Society of Engineering Technologists Technical Excellence Award to recognize quality in the field of agricultural equipment.